By Barry Deutsch
We've put over 25,000 hiring executives and managers through our Hire With Your Head workshop in the last 7-8 years. Our executive search firm has been involved in thousands of executive searches over the last 20 years. We've collected an impressive array of anecdotal and quantifiable data on the success and failure of hiring practices in many different companies. One of the most difficult hires for an entrepreneurial or middle-market company is either choosing an internal sales hire or picking an independent rep organization.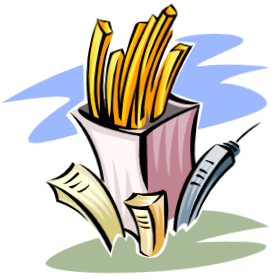 The most interesting trend we continually observe is that hiring executives and managers often approach the hiring or selection process as though they were ordering fast food at the drive-through, particularly for sales hires. First they scan the menu to see what's offered, then they pick the top three or four things they want. "I'll take one MBA, with a BSME, a 3.5 GPA or better, and don't forget three years of sales experience in the machine tool sector." While ordering this way at local hamburger joint almost always produces exactly what you want, it doesn't work nearly as well for hiring.
When I teach hiring executives and managers about the hiring or selection process, whether they are picking internal sales people or external reps, I always ask, "How many of you have ever hired a partially competent sales person?" The answer is frequently YES for a majority of the workshop participants. Why? Because the current process of defining what the hiring executive or manager is looking for is hopelessly flawed.
The typical hiring executive or manager, and in truth many recruiters, approach each new hiring assignment with a list of qualifications. This list becomes codified in the official job description which includes some level of education (an MBA from UCLA), some level of experience (three years of sales experience), and some core traits or characteristics (self-starter or good communicator). What they don't tell you is what the person actually needs to DO in the job to be a superior performer. As it turns out, these lists of attributes are poor substitutes for superior performance.
For example, the typical job description for a sales rep position might include a list of criteria such as: MBA, five years sales experience in a particular industry, good product knowledge, an available "rolodex", good organization skills and closing capability. Each of these descriptors focuses on the candidate HAVING certain skills or levels of experience. But the don't say anything about what the candidate has been actually DOING. And it's PAST PERFORMANCE, not past experience, that is THE BEST PREDICTOR OF FUTURE PERFORMANCE.
The next time you recruit for a new position, particularly in sales, try this first:
Take a list of the HAVING job criteria and convert it into a DOING-oriented statement, covering how you expect the candidate to actually perform.
When you take this approach, everything changes. Instead of asking in the interview, "Do you have five years of sales experience in our particular industry?" you can now ask something much more revealing: " Can you give me an example where you joined a new company and had to come up to speed on their product offerings in an abbreviated timeframe, and where you had to quickly develop a plan in the first 30 days to meet quota. The answer to the second question will uncover true past performance faster — and much more accurately — than simply checking off a list of HAVING-oriented job criteria.
Taking the time to define superior performance allows you to focus on what a candidate has done in the past that is directly relevant to the job you are asking them to do for you.
Here are some hints to help you get started defining superior performance:
First, make a list of the top 5-8 things a person must DO to be successful in the job. These are called performance objectives, and could include some of the following key areas:
Management or Organizational Issues
Changes and Improvements you'd like to see implemented
Problems that might arise (or ones that already exist)
Technical Issues
Team and People Issues
Projects and Deliverables
Once you have a list of objective you need to prioritize them.
Focus only on major objectives and the interim steps necessary to achieve them. We call these S.M.A.R.T. objectives (S for Specific, M for Measurable, A for Action-oriented, R for Results, T for Time-based).  An example of a sales objective might be: Develop a plan of action within 60 days to increase sales by 15% at the top 20% of accounts within the Western Region within 12 months. Another objective might be: Be prepared within 30 days of start date to make a formal 30 minute Powerpoint presentation to your first major customer – create a fast-track learning process to fully understand the customer benefits of our equipment within the first 2 weeks.
Writing SMART objectives isn't as easy as ordering fast food . It takes practice, some effort, and a little time. But it's well worth the investment. Your definition of superior performance becomes the basis for writing great ads, assessing true competency during the interview, and courting the right candidates. And you're hiring mistakes won't have you reaching for the Tums so often in the middle of the night. 
Barry Deutsch, MA is a well-known thought leader in hiring and peak performance management. He is a frequent and sought-after speaker for management meetings, trade associations, and CEO forums, such as Vistage International, formerly known as TEC, a worldwide CEO membership organization of more than 15,000 CEOs and senior executives. Many of his clients view him as their virtual Chief Talent Officer. Vistage International named Barry "IMPACT Speaker of the Year"… Barry is also frequently asked to present IMPACT Hiring Solutions award-winning programs on hiring, retention, and motivating top talent and leverages a vast knowledge base of 25 years in the executive search field, with a track record of successful placements in multi-billion dollar Fortune 100 companies, entrepreneurial firms, and middle-market high-growth businesses. He has worked closely with thousands of CEOs and key executives to help improve hiring success, leverage human capital, and raise the bar on talent acquisition. Barry earned his BA and MA from the American University in Washington, D.C. Prior to his executive search career, Barry held positions of responsibility in Finance and General Management with Mattel, Beatrice Foods, and Westinghouse Cable. Barry is a co-author of the book, You're Not The Person I Hired. You can reach him at barry@impacthiringsolutions.com.
Permission is needed from Lighthouse Consulting Services, LLC to reproduce any portion provided in this article.  © 2014   
Inspiration and Techniques for Building Championship-Level Performance – Lighthouse clients have one thing in common – all are committed to boosting the performance of their organizations. So, we are pleased to introduce our clients and friends to Boaz Rauchwerger — speaker, trainer, author and consultant. We highly recommend Boaz to you. Ask him to deliver one of his inspirational programs at your next executive retreat or strategic planning session.
One of our favorite Boaz programs is "Playing Like a Championship Team Every Day". It helps you build on the strengths of everyone's individual differences. This program helps you discover five steps to get everyone to join the building crew and resign from the wrecking crew. This is a very powerful and inspirational program that receives rave reviews every time.
• Master five techniques to inspire others to perform like champions
• Six recognition techniques including the powerful "good finder" program
• Learn four ways that your team can gain a competitive advantage
• Identify the three prerequisites for maximizing the team's results
• Learn the two forms of keeping a daily score so everyone wins
Who is Boaz? Over a 30-year span, Boaz, author of The Tiberias Transformation – How To Change Your Life In Less Than 8 Minutes A Day, has conducted thousands of seminars internationally on goal setting and high achievement. He has taught over half a million people how to supercharge their lives, their careers and how to add Power to their goals. His innovative program, for individuals and corporations, is a simple and highly effective process for high achievement. He was voted Speaker of the Year by Vistage, an international organization of CEOs and business owners. How to Contact Boaz – Want more information on Boaz's Power Program, including "Playing Like a Championship Team Every Day"? Just click here and we'll be in touch.
If you would like additional information on this topic or others, please contact your Human Resources department or Lighthouse Consulting Services LLC, 3130 Wilshire Blvd., Suite 550, Santa Monica, CA  90403, (310) 453-6556, dana@lighthouseconsulting.com & our website: www.lighthouseconsulting.com.
Lighthouse Consulting Services, LLC provides a variety of services, including in-depth work style assessments for new hires & staff development, team building, interpersonal & communication training, career guidance & transition, conflict management, 360s, workshops, and executive & employee coaching.  Other areas of expertise: Executive on boarding for success, leadership training for the 21st century, exploring global options for expanding your business, sales and customer service training and operational productivity improvement.
To order the books, "Cracking the Personality Code" and "Cracking the Business Code", please go to www.lighthouseconsulting.com.
https://lighthouseconsulting.com/wp-content/uploads/2013/10/bldg-fries.png
280
279
Dana and Ellen Borowka
https://lighthouseconsulting.com/wp-content/uploads/2021/02/Lighthouse-Logo-co-name-transparent-300x97.png
Dana and Ellen Borowka
2014-08-09 16:18:17
2016-10-03 01:45:56
Would You Like Some Fries with That Sales Hire?