By Jim Canfield
[dropcaps type="circle" color="" background=""]T[/dropcaps]here is ultimately only one reason to grow your business; to increase its value. Business leaders like you everyday are entering into, swimming amongst or exiting out of some stage of their company's growth. You don't have to be a Wall Street resident or even an expert to recognize the daily stock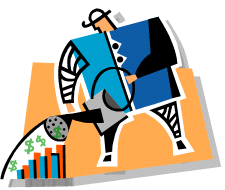 price fluctuations speculating what will be become the next stage for an enterprise. Do they predict booming growth based on the current track record or are they raising red flags indicating someone or something is potentially locking that growth potential down? Whether the stakeholders in your business are private or public, unlocking any door to a stage of growth is an overwhelming and gargantuan task. However, nothing can create value faster than actual or visualized organizational growth.
I have had the good fortune of watching hundreds of companies and their growth patterns as they attempted to unlock the potential growth envisioned by the CEO and supporting management team. While each organization possessed similar desires to achieve their projected results, the actual outcomes I witnessed varied widely. Some started out well enough, full of enthusiasm and confidence only to lose focus and momentum eventually forcing them to a plateau. Others, while starting slow, built steam but failed to push hard enough to create the required breakthrough. What caused these best intentions to disintegrate into disappointing outcomes?
One thing was apparent, each organization subscribed to the same two notions:
The CEO and his/her supporting team "wanted to take the company to next level", yet they were unaware of what their current level was and therefore couldn't identify the next one they wanted to achieve.

This same leadership team also declared that "our business is different" and for that reason the hurdles they must conquer to get to the "next" level cannot parallel any other organizations.
What are these levels to which they alluded and was each company truly all that different?
The various levels that the management teams alluded to can be summarized into what I term as The Four Stages of Growth: Start-Up, Initial Growth, Early Growth and Mature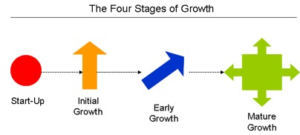 Growth.
After spending thousands of hours with CEOs and their executive teams, you would think that these theoretical differences between one organization and the next each attempting to advance would be crystal clear. This was not the case. Instead five issues creating hurdles to the next growth stage emerged over and over again; People, Processes, Profitability, Personal Leadership and Planning.
This concept is the basis of the GrowthSpeed formula for company growth. At each level of growth, the five hurdles appear in a slightly different form. The company must successfully negotiate and leap over each of these five hurdles to move on to the next level of growth. The inability to make a transition over one of these hurdles forces the envisioned growth to stall at the current level. The company must then repeat the attempt at that hurdle until it is conquered.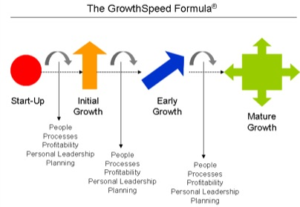 Imagine the thoroughbreds that compete in hunter-jumper competitions. They are confronted with a series of hurdles or gates as they negotiate the course. Each hurdle presents a different type of challenge; some are tall, others wide, several hurdles in sequence, while others require a landing in water. When a hurdle is not completed it may be due to a horse and rider which fail to attempt a hurdle and when part of it is hit, it is not counted as complete. The horse and rider are penalized and in some cases they must attempt the hurdle again.
As I mentioned, these hurdles show up in different forms at each growth stage. The Start-Up level is characterized by the desire to launch a new idea or concept into a viable commercial venture. This can be the emergence of a new company, the distinction of a new operating division and/or the development of a new product or service offering. The focus is on survival. The predominant activity is proving the concept by generating sales revenue. Finding a customer becomes paramount. This phase is often characterized by the founding team exclaiming, "we got the business, now what do we do?"
During the Start-Up stage, the People Hurdle is focused on creating assistance for the founder. The Process Hurdle is focused on identification and documentation of effective processes to provide clarity for new team members that join the organization in the future. The Profitability Hurdle in this stage is focused on staying afloat as the new venture attempts to sustain itself. This often requires outside funding, capital infusion or income sources from the owner. The Personal Leadership Hurdle places the founding leaders each in the role of the Champion. The leaders must be the Champion for the business, the concept and the value customers will receive. The Planning Hurdle represents the need for a business plan that can effectively articulate the value proposition and the opportunities associated with the new venture. This document will be the looking glass through which prospective investors, partners, customers and employees will determine whether they see themselves as part of this company's future.
Each one of these hurdles represents a critical juncture for the organization. If they are not successfully negotiated and conquered, the company must repeat the attempt until the hurdle is crossed or risk their possible demise.
As a company navigates their way through the stages, each of the five hurdles is clearly present, but manifested in different ways. As you enter the next stage, not only do you need to recognize their new appearance, your arsenal to conquer them will also likely change. Think of the garden enthusiast who desires to make an empty patch of land into a vibrant and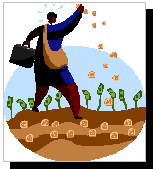 bountiful vegetable garden. First they must plant the seeds and during their start-up growth, snails appear. By using the latest and greatest repellent, the gardener kills the snails. As the seeds continue their growth and the garden begins to flourish, crabgrass appears. It doesn't look like a snail, it doesn't act like a snail same but it is a hurdle nonetheless. The gardener can't use the snail repellent this time; crabgrass is its own animal and requires a different solution. You get the point.
Regardless of the size of your business, or the type of business you are in – your desire to advance through the four stages is most likely present. And therefore, so is the inevitable emergence of the five hurdles. Take a look around, what growth level are you at right now? How are the hurdles expressed in your organization? Most importantly, what level do you want to be at and how can the GrowthSpeed formula get you over those hurdles?
A client company launching a new line of business faced these hurdles recently. While successfully negotiating several hurdles, two presented obstacles. The founder/CEO was still in the role of Champion and hadn't transitioned to Leader. He found it difficult to recruit, retain and develop new salespeople because "no one knew the business like he did." The organization also lacked clarity in the identification and reliable application of its processes. What symptoms did the organization possess to reach this diagnosis?
First, It was obvious the company was growing, yet employees felt they were working harder and accomplishing less. There was significant time wasted on re-doing tasks and explaining unsatisfactory work which was blamed on inadequate processes. Second, virtually all new business development was still being accomplished by the founder/CEO. This put the organization at risk of being totally dependent on one person for growth.
As a result of this diagnosis, new strategic plans were developed including key objectives for developing new revenue growth by recruiting and developing additional sales professionals. An operational plan was documented to improve effectiveness of existing processes while redesigning others. The key to these changes and the subsequent growth acceleration was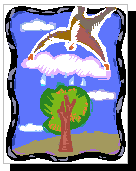 the application of the GrowthSpeed formula to identify the obstacles to growth and then implement the plans to address them.
Every organization I have worked with has been confronted by these hurdles as they navigated their own desired course of growth. Their ability to identify and subsequently conquer the hurdles is what truly differentiated them from each other after all. If you would like to identify your current stage of growth and what might be holding you back, contact Jim Canfield at 858-449-4207 or JimC@ExecutiveForums.com.
Jim Canfield is the CEO of Renaissance Executive Forums, a world leading membership organization for company CEOs and business owners. He enjoys the opportunity to provide programs, mentorship and inspired connections that develop CEOs and management teams, to drive bottom line business results and enhance overall quality of life. His focus throughout all that he does centers on supporting and inspiring business leaders who are committed to growth and achievement. He has worked with inspiring clients that include small-to-medium size organizations and incredible thought-leaders such as Tony Hsieh from Zappos.com, Chip Conley, author of "Peak," and founder of JDV Hotels and more. His years of coaching and working closely with CEOs and their teams has been extremely rewarding and has over 5,000 hours of coaching and worked with more than 300 CEOs. His approach brings a unique blend of extensive experience in leadership theory coupled with practical real-world experience building several companies. Providing clarity and insight into the unique leadership roles and responsibilities of CEOs, business owners, senior executives and managers, he is able to make moving to the next level a reality. Jim can be reached at 858-449-4207 or JimC@ExecutiveForums.com. Contributing Author for this article: Kristy Cornell.
Permission is needed from Lighthouse Consulting Services, LLC to reproduce any portion provided in this article. © 2014
If you would like additional information on this topic or others, please contact your Human Resources department or Lighthouse Consulting Services LLC, 3130 Wilshire Blvd., Suite 550, Santa Monica, CA 90403, (310) 453-6556, dana@lighthouseconsulting.com & our website: www.lighthouseconsulting.com.
Lighthouse Consulting Services, LLC provides a variety of services, including in-depth work style assessments for new hires & staff development, team building, interpersonal & communication training, career guidance & transition, conflict management, 360s, workshops, and executive & employee coaching. Other areas of expertise: Executive on boarding for success, leadership training for the 21st century, exploring global options for expanding your business, sales and customer service training and operational productivity improvement.
To order the books, "Cracking the Personality Code" and "Cracking the Business Code" please go to www.lighthouseconsulting.com.
https://lighthouseconsulting.com/wp-content/uploads/2013/10/man-growing-money.png
190
225
Dana and Ellen Borowka
https://lighthouseconsulting.com/wp-content/uploads/2021/02/Lighthouse-Logo-co-name-transparent-300x97.png
Dana and Ellen Borowka
2014-03-11 11:59:39
2016-10-04 01:47:31
Growth Takes Resources, How Fast Do You Want to Grow?