By Boaz Rauchwerger
In my nearly 30-year career as a professional speaker, with many events for groups of CEOs throughout North America, I've noticed that there's something different about companies that achieve great success.
ATTITUDE
It all comes down to ATTITUDE. The culture of highly successful companies exemplifies an above-average can-do attitude that makes them leaders in their field.
In my opinion, attitude is not part of the thing, it's not the majority, it's EVERYTHING! John D. Rockefeller, the founder of the family fortune, said, "I'd much rather hire someone with a great attitude than someone with more degrees than a thermometer who has no clue."
So, if your company doesn't have an above-average, positive, can do attitude, here are some ideas of how to integrate this concept into your culture.
UNBELIEVABLE
This is a very powerful word that, when used with people in the outside world with enthusiasm, sets a premise that says your company is doing great! I teach people, when someone from the outside asks, "How's business?" that they answer with, "UNBELIEVABLE!" Do so with enthusiasm and everyone will give you the benefit of the doubt and think you're doing great.
The words 'super', 'fine', and 'terrific' are all at one level. UNBELIEVABLE is at a higher level. And, when the other person asks, "Is it really going that good?" simply respond by saying, "All I can say is that it's UNBELIEVABLE!" The majority of people will walk away and spread good rumors about you because they'll judge that you must be doing great!
Who does that word affect the most? The person saying it because of the positive response from others. I would suggest that you ask everyone in your company, whenever communicating with someone on the outside, to use UNBELIEVABLE when people ask how business is going.
INNOVATION FACTORY
How about changing the way your employees see your company? Whether you have a handful of employees or hundreds, why not give everyone the idea that you're all working at an INNOVATION FACTORY?
Psychologically, you no longer produce widgets. Your main product, from now on, is INNOVATION. New ideas. Isn't that what a championship
team does? A championship team is constantly coming up with new ways to do things, better designs, and new products.
This idea can be easily implemented by getting a banner produced, at a place like FedEx Office, that reads: "Welcome to Your Innovation Factory". Post that banner in the lobby of your company or wherever everyone can see it every day. Announce to your employees that, from now on, you're going to reward new ideas that you end up implementing. What if someone comes up with a great idea that can lead to better products, improved services, or higher profits?
EVERY DAY I PLAY LIKE A CHAMPION
This is another sign that can take your company's attitude to the next level. Have these words, in large type, placed on an 8 ½ x 11 piece of paper, with your company's logo at the top. Then have signs printed with these words, and your logo, on very bright yellow paper. Yellow and black have a great contrast and get everyone's attention.
Then laminate several dozen of these signs, using heavy lamination, and post them throughout your company. At the entrance, in hallways, in everyone's cubicle, on the doorpost of your office, at the entrance of meeting rooms. Ask everyone, when they see one of the signs, to just touch it.
Something positive will happen in everyone's subconscious mind when they do that. Make sure that people see you touching your sign on the doorpost of your office. If visitors ask about the signs, offer to give them a few to take back to their company. Because you've used heavy lamination, they will not think to make their own. They will post your sign, with your company logo, in their office. This is great advertising!
CARNEGIE & HILL BOOKS
Get copies of the following two books and place them on everyone's desk: "How to Win Friends and Influence People" by Dale Carnegie and "Think and Grow Rich" by Napoleon Hill.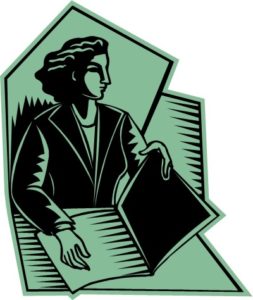 Both of these books, international best-sellers for many years, were written in 1935 and are still very applicable today. The Carnegie book, in my opinion, is the best personal development, attitude, creating great relationships book ever. The Hill book is actually an attitude book. It describes the attitudes of some of the most successful people in America and what made them achieve great success.
As I said, place copies of these two books on everyone's desk, including yours, and don't ask anyone to read them. Say the following, "There's no need to read these books. I would just appreciate if you keep them on your desk." What do people do when you tell them not to do something? Yes, they will end up reading and your company will benefit greatly. Just seeing them everywhere will positively affect people.
Then, when you start company meetings, say the following: "I was reading a page in the Dale Carnegie book that I thought was interesting. I'd like to read it out loud and then ask each of you to comment." Read a page and then ask everyone to comment. Don't ask for volunteers. Just start on one side of the room and go around. This exercise will tell everyone that YOU are reading the books.
WEEKLY PEP RALLIES
One thing that is very harmful to a company's great attitude is a negative, false rumor circulating among your employees. I suggest Monday morning pep rallies, no more than 30 minutes, where you squash any false rumors.
Play some upbeat music ahead of these weekly meetings and introduce any new employees who joined the company in the past week. Ask
those employees to bring some pictures from home so everyone can get to know them better. This will make them feel important.
Let people know about the challenges of the past week and, with more emphasis, report enthusiastically about the good things that happened in the past seven days. Compliment people who have gone the extra mile and make a big deal about it. This will make people feel important.
So, let's summarize the action steps that will take your company's attitude to the next level:
Use the word "UNBELIEVABLE" when people ask how your business is doing.
Create a "Welcome to Your Innovation Factory" banner and post it where everyone will see it every day.
Create the "Every Day I Play Like a Champion" signs and post them throughout your offices.
Get copies of the Carnegie and Hill books for everyone at your company and ask them to keep them on their desks.
Have a Monday morning pep rally where you let people know what's going on and recognize people who go the extra mile.
As John D. Rockefeller said, "Attitude is everything!" These ideas can take your company's attitude to the next level. Let's get started!
Permission is needed from Lighthouse Consulting Services, LLC to reproduce any portion provided in this article. © 2014
Inspiration and Techniques for Building Championship-Level Performance – Lighthouse clients have one thing in common – all are committed to boosting the performance of their organizations. So, we are pleased to introduce our clients and friends to Boaz Rauchwerger — speaker, trainer, author and consultant. We highly recommend Boaz to you. Ask him to deliver one of his inspirational programs at your next executive retreat or strategic planning session.
One of our favorite Boaz programs is "Playing Like a Championship Team Every Day". It helps you build on the strengths of everyone's individual differences. This program helps you discover five steps to get everyone to join the building crew and resign from the wrecking crew. This is a very powerful and inspirational program that receives rave reviews every time.
• Master five techniques to inspire others to perform like champions
• Six recognition techniques including the powerful "good finder" program
• Learn four ways that your team can gain a competitive advantage
• Identify the three prerequisites for maximizing the team's results
• Learn the two forms of keeping a daily score so everyone wins
Who is Boaz? Over a 30-year span, Boaz, author of The Tiberias Transformation – How To Change Your Life In Less Than 8 Minutes A Day, has conducted thousands of seminars internationally on goal setting and high achievement. He has taught over half a million people how to supercharge their lives, their careers and how to add Power to their goals. His innovative program, for individuals and corporations, is a simple and highly effective process for high achievement. He was voted Speaker of the Year by Vistage, an international organization of CEOs and business owners.  How to Contact Boaz – Want more information on Boaz's Power Program, including "Playing Like a Championship Team Every Day"? Just click here and we'll be in touch.
If you would like additional information on this topic or others, please contact your Human Resources department or Lighthouse Consulting Services LLC, 3130 Wilshire Blvd., Suite 550, Santa Monica, CA 90403, (310) 453-6556, dana@lighthouseconsulting.com & our website: www.lighthouseconsulting.com.
Lighthouse Consulting Services, LLC provides a variety of services, including in-depth work style assessments for new hires & staff development, team building, interpersonal & communication training, career guidance & transition, conflict management, 360s, workshops, and executive & employee coaching. Other areas of expertise: Executive on boarding for success, leadership training for the 21st century, exploring global options for expanding your business, sales and customer service training and operational productivity improvement.
To order the books, "Cracking the Personality Code" and "Cracking the Business Code", please go to www.lighthouseconsulting.com.
https://lighthouseconsulting.com/wp-content/uploads/2013/10/torch-bizwoman.jpg
354
284
Dana and Ellen Borowka
https://lighthouseconsulting.com/wp-content/uploads/2021/02/Lighthouse-Logo-co-name-transparent-300x97.png
Dana and Ellen Borowka
2014-11-29 13:00:30
2016-10-04 02:20:32
How to Take Your Company's Attitude to the Next Level