By Dana Borowka, MA – Excerpt from the book, Cracking the Business Code
We often get inquiries from companies wanting to know what it takes to manage up and manage down in order to:
• Improve relationships, communications, efficiency, and productivity
• Raise the bar on reducing waste
• Increase the flow of ideas for better work flow
• Enhance customer interaction and product or service design and improvement.
So, we developed a workshop titled, Cracking The Personality Code: Managing Up and Managing Down – Communication Opportunity of a Life Time! We thought we'd share some key points on this huge topic:
Change is in the Air. Teams should consider the following quote from Albert Einstein: "The significant problems we have today cannot be solved at the same level of thinking with which we created them." We need to be receptive to consider how we have done things in the past and when things need to change in order to stay current. Remember the Rolodex cards? Even the good old fashioned light pole is being changed out for the more modern version that does not pollute, uses solar electricity, notifies central head quarters through a wireless device when it needs service, and is quicker and less expensive to install.
A Strategy with Stress. Each team member needs to deal with one key element of miscommunication… stress! If we are just reacting without a strategy or a tactic to execute then we are doing no better than running in circles. Stress or "fear" can cause us to shut down and reduce our capacity to listen. An excellent team exercise to understand how stress manifests within the work environment is to have the team members draw a picture of what each person feels they look like when under stress and write out some key attributes when staff members are under pressure and when they are feeling relaxed. Here are some questions to facilitate a discussion: How do your team members manage stress? Do your team members support each other when under pressure? What would be helpful when under stress?
Be Like an Ostrich. The old tale that ostriches bury their head in the sand just isn't true. What they are really doing is resting their heads on the ground which allows them to pick up on vibrations so if a predator is near by they can protect themselves. Ostriches are actually excellent listeners! We all need to be like an ostrich and become outstanding listeners. One way to develop your listening skills is to practice active listening where you paraphrase what you think the other person is saying to you.
Get to Know Who You are Dealing With. List out those you consider to be "A" players and identify three key traits. Then do the same for "B" and "C" players. Look for commonalities and develop a strategy for how to approach each person in order to communicate in a way that is most effective for everyone.
Create a Communications Plan. Here is a team exercise to focus on communication – briefly answer the following questions:
a. How do you listen… if at all?
b. What are three things that haven't worked for you when communicating in the past?
c. What are three things that have worked?
d. What would you like your team members to do that they aren't doing?
e. What are some baby steps to improve your listening and communication style?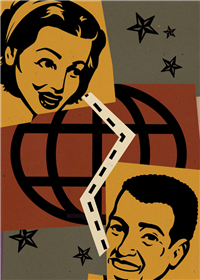 Communication and empathy are crucial to developing a successful interpersonal relationship. The more you reach out with a plan in mind that is based on listening and openness, the more ideas will flow to you on how to best manage up and manage down.
Permission is needed from Lighthouse Consulting Services, LLC to reproduce any portion provided in this article. © 2015
Dana Borowka, MA, CEO of Lighthouse Consulting Services, LLC and his organization constantly remain focused on their mission statement – "To bring effective insight to your organization". They do this through the use of in-depth work style assessments to raise the hiring bar so companies select the right people to reduce hiring and management errors. They also have a full service consulting division that provides domestic and international interpersonal coaching, executive onboarding, leadership training, global options for expanding your business, sales and customer service training, operational productivity improvement, 360s and employee surveys as well as a variety of workshops. Dana has over 25 years of business consulting experience and is a nationally renowned speaker, radio and TV personality on many topics. He provides workshops on hiring, managing for the future, and techniques to improve interpersonal communications that have a proven ROI. You can reach Dana at 310-453-6556, ext. 403 or by emailing him at dana@lighthouseconsulting.com.  He is the co-author of the books, "Cracking the Personality Code" and "Cracking the Business Code". To order the books, please visit www.lighthouseconsulting.com.
Inspiration and Techniques for Building Championship-Level Performance – Lighthouse clients have one thing in common – all are committed to boosting the performance of their organizations. So, we are pleased to introduce our clients and friends to Boaz Rauchwerger — speaker, trainer, author and consultant. We highly recommend Boaz to you. Ask him to deliver one of his inspirational programs at your next executive retreat or strategic planning session.
One of our favorite Boaz programs is "Playing Like a Championship Team Every Day". It helps you build on the strengths of everyone's individual differences. This program helps you discover five steps to get everyone to join the building crew and resign from the wrecking crew. This is a very powerful and inspirational program that receives rave reviews every time.
• Master five techniques to inspire others to perform like champions
• Six recognition techniques including the powerful "good finder" program
• Learn four ways that your team can gain a competitive advantage
• Identify the three prerequisites for maximizing the team's results
• Learn the two forms of keeping a daily score so everyone wins
Who is Boaz? Over a 30-year span, Boaz, author of The Tiberias Transformation – How To Change Your Life In Less Than 8 Minutes A Day, has conducted thousands of seminars internationally on goal setting and high achievement. He has taught over half a million people how to supercharge their lives, their careers and how to add Power to their goals. His innovative program, for individuals and corporations, is a simple and highly effective process for high achievement. He was voted Speaker of the Year by Vistage, an international organization of CEOs and business owners. How to Contact Boaz – Want more information on Boaz's Power Program, including "Playing Like a Championship Team Every Day"? Just click here and we'll be in touch.
If you would like additional information on this topic or others, please contact your Human Resources department or Lighthouse Consulting Services LLC, 3130 Wilshire Blvd., Suite 550, Santa Monica, CA 90403, (310) 453-6556, dana@lighthouseconsulting.com & our website: www.lighthouseconsulting.com
Lighthouse Consulting Services, LLC provides a variety of services, including in-depth work style assessments for new hires & staff development, team building, interpersonal & communication training, career guidance & transition, conflict management, 360s, workshops, and executive & employee coaching. Other areas of expertise: Executive on boarding for success, leadership training for the 21st century, exploring global options for expanding your business, sales and customer service training and operational productivity improvement.
We recently launched a new service called Sino-Am Leadership to help executives excel when stationed outside their home country. American managers in Asia and Asian managers in America face considerable business, personal, and leadership challenges because of the cultural differences. This unique program provides personal, one-on-one coaching. For more information visit, https://lighthouseconsulting.com/performance-management/talent-development/sino-american-management-style/ .
To order the books, "Cracking the Personality Code" and "Cracking the Business Code" please go to www.lighthouseconsulting.com.
https://lighthouseconsulting.com/wp-content/uploads/2015/05/MC9001878011.png
251
200
Dana and Ellen Borowka
https://lighthouseconsulting.com/wp-content/uploads/2021/02/Lighthouse-Logo-co-name-transparent-300x97.png
Dana and Ellen Borowka
2015-05-04 08:57:05
2016-10-04 02:18:55
What It Takes To Manage Up & Manage Down: Five Key Points for Management