By Paul David Walker
Cause and Effect Moves With or Without You
The flow of cause and effect move events, stimulate ideas, and drive consumer wants and needs because everything is connected. This flow has a powerful momentum, and moves like the multi-dimensional currents in a powerful river. This force moves forward with, or without, our conscious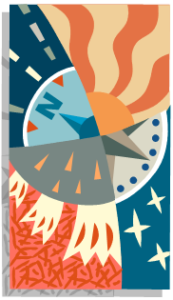 involvement. We are all connected to it even if we are not aware of our connection. The more we are consciously in sync with what I call "The Life Force," the faster, more targeted and powerful are our actions. Like an athlete "In The Zone," we accelerate our performance with grace and ease.
Imagine how difficult life would be if you are not aware of these flows. Many of us are not. It would be like hiking through a wilderness fog without a compass. Even if you knew you needed to go North, you could not tell which way it is. Likewise, we need an "Inner Compass" to navigate within the flows of cause and effect that influence every moment of our lives, a way to understand where we are, and where the flow of history is going. But what is, and what is the practical use of, our inner compass? A story best illustrates.
What Is Your Inner Compass?
When I was working as a leadership consultant to Don Ross, Chairman and CEO of New York Life, during the summer of 1987, many people were coming to me questioning the Chairman's actions. He had asked the investment department to slowly move all investments out of the stock market into conservative investments. This frustrated his investment team because the stock market was at an all time high and their competitors were using "High Yield Bonds" and stocks to create gains much greater than New York Life's. They wanted to play in the game, and Don Ross was telling them to step back.
Many came to me, as Don's coach, to suggest I persuade him of the foolishness of his actions. I explained that I was his leadership coach and had little knowledge of the financial markets, but encouraged them to speak directly to Don. However, no matter how people pleaded, he would not change course. Several key players resigned and went to more "progressive" companies.
In October of 1987, while I was on site at New York Life, the market crashed. It was the biggest crash since the Great Depression. But New York Life had moved most of its investments out of the stock market and had not invested in any "High Yield Bonds," known later as "Junk Bonds." Don Ross was now considered a genius. The financial gain was enormous.
A week or so later, I asked Don how he knew to pull all of the company's investments out of the stock market three months before the October 1987 crash. He said, "I just knew it couldn't last." Everyone in his world thought he was wrong, yet he had the wisdom and courage to do what he felt was right.
Knowing the Difference
When I pressed him to tell me more, he went on to explain that, as Chairman and CEO, he was continuously bombarded with "experts" trying to convince him of completely different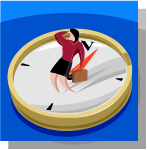 strategic directions. Each had incredible credentials and a good story, yet each recommended different directions. The only tool he had to make the final decision was his instinct, or intuition. He said, "Whenever I have gone against my intuition, I have regretted it."
Don Ross explained to me, "The key to wisdom is to know the difference between your wild hopes and fears and common sense, intuition or true wisdom." They often seem the same, but they are not. There is a distinct difference in the feeling. One comes from the Ego and insecurity, and the other comes from Wisdom. Great leaders learn the difference and, given this knowledge, develop the courage to act quickly. Don had found ways to live in the present like an athlete "In The Zone," but with an easier more sustainable feeling I call "Integrative Presence," or at least he was able to find that state of mind when he needed insight. When I met with him over the years, he was often in the state of Integrative Presence. He was warm, yet seemed to be able to see through people. Insightful, yet he moved with grace and ease.
Courage To Act
All the great leaders I have worked with know how to achieve the state of Integrative Presence, even though they may not understand the nature of this state of mind. They have experienced being connected to something that supercharges their own knowledge. They speak reverently about this connection in private, but rarely talk about it to the press. It just seems too outside the norm for stockholders and the public. But knowing and connecting to wisdom through Integrative Presence is essential for leaders in business today. Markets move quickly, often with little warning, and the wise leader can feel the moving currents. At each moment, like a surfer, the conscious leaders are so present they take advantage of trends as they emerge.
Know How It Feels
When I have asked people to describe how they feel when they experience being "In The Zone" or Integrative Presence, they say things like: confident, at peace, exhilarated,
powerful, graceful, and present. Some report a slow motion effect as time slows. Kareem Abdul-Jabbar told how the five seconds he had to win the NBA championship with one shot seemed like five minutes. He felt relaxed, as if he had all the time in the world, yet he appeared to move like lightning to the rest of the world–the very definition of Integrative Presence. His creativity, within these few precious seconds, was nothing less than pure genius. He was integrating the skills he had learned over the years, his desire to make the shot, and the flow of the moment.
It Is A Natural State of Mind
As I have experienced and studied athletes in the zone or integrative presence. I have found that this state of mind, though not often reached, is a natural way of living. It seems we have lost touch with true presence overtime. Ironically, the art of getting into this state of mind is letting go of what we think we know. As you let go, this state of mind just takes over. You don't need to train yourself to experience Integrative Presence, you merely need to "let go." This state takes over your consciousness and supercharges your performance because it is in our nature to live this way.
Sports create highly charged environments. They are designed to bring out the best in people. But can this state be achieved outside this arena? Certainly, if these states of mind that seem to create super human results can be created in one area of life, they should be able to be created in others. While the environment is particularly right for this kind of performance in sports, it is not beyond or separate from this "real world" we all operate within.
The Present Is The Only Portal To The Future?
You might ask, "If you are in the present, "How do you create the future?" Here is my answer. Imagine the world is a dance floor and the rhythm and flow of the band is "The Life Force," which infuses everything. The multidimensional flow of the band seems irresistible to some, yet others stand against the wall not knowing how to jump in, and many are not even aware of the dance. They have heard people talk about it, but can't seem to hear or feel the flow of the music. Those who feel it deeply dance like gods and goddesses in the middle of the floor creating a vortex of energy and motion that draws new dancers into their circle.
The band, which represents "The Life Force," naturally lures people onto the floor to dance in a rhythm and harmony that seems to come from outside them. Of those out on the floor, many dance out of rhythm most of the time, but have moments of grace. Others have a routine that they have worked out over the years which works for them, but only captures a small part of the rhythm. Some have a routine and experiment momentarily with new movements, but mostly go back to what they know. Those who feel the music deeply dance adding rhythms and counter rhythms and seem to be an extension of "The Life Force" that passes through the band.
Without knowing, many start to follow the waves of energy coming from the leaders and the overall quality of the dance improves. At some point in time, magic occurs. The beauty and energy of the lead dancers is so compelling that the band itself is drawn into the dance creating new rhythms and flows as the Life Force, the band, and the dancers join and create new realities.
Start With The Present Moment
"The Life Force" creates Life and Life influences "The Life Force," just as the band creates the rhythm and flow and changes, because the lead dancers' energy becomes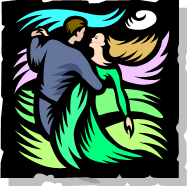 part of the rhythm and flow. The only way to create the future is to engage, like the dancers, with the rhythm and flow of the present; and by doing so you become a co-creator. It is not about wishing and hoping as the popular book "The Secret" would suggest. The various rhythms and flows of business markets are subsets of the rhythm and flow of "The Life Force," which animates everything. Both can be influenced in the manner just described. Great leaders have discovered and mastered this secret.
There Is No Substitute For Practice
The flow of market wants and needs is like the complex themes, harmonies, and rhythms in music. Your team must spend lots of time dancing with those rhythms to know how to influence the flow of the dance. Your team, products and services must dance first with the rhythm and flow of the present, then lead. There is no substitute for this kind of presence in your target market, and like dancing to a good band, or being in "The Zone" in sports, it is a blast! The energies of the market will feed you and your creativity will lead the flow of the market.
Your inner compass lets you know the difference between your thoughts about the flow of cause and effect, and the actual flow. We have to practice to know the difference between the feelings that come from our thoughts and ego and our natural wisdom. Knowing how to access our natural wisdom is the inner compass. Having this compass helps us walk with the wind of "The Life Force" at our backs and in our hearts.
Your Inner Compass & Hiring
According to Dana Borowka, CEO of Lighthouse Consulting Services, LLC (www.lighthouseconsulting.com) and author of new book, Cracking the Business Code, creating a foundation for strong leadership requires the right people. Hiring the right people is key to future growth. If you would like additional information on hiring, please click here to see an article on this subject.
Permission is needed from Lighthouse Consulting Services, LLC to reproduce any portion provided in this article. © 2014 
Paul David Walker is a Senior LCS Consultant and one of the few CEO coaches who has worked with numerous Fortune 500 CEOs and their key staff members for over 25 years along with many mid-cap organizations. Some of the organizations that Paul has worked with include Star Kist Foods, Von's Grocery Stores, New York Life, Anne Klein, Rockwell International countless manufacturing, global utilities, service and consulting organizations. Paul is the founder of Genius Stone Partners, and works with domestic and international companies to improve their bottom line today and planning for the future. Paul is the author of the best selling book, Unleashing Genius and his new book, Invent Your Future – 7 Imperatives for a 21st Century. You can reach Paul at Paul@lighthouseconsulting.com.
If you would like additional information on this topic or others, please contact your Human Resources department or Lighthouse Consulting Services LLC, 3130 Wilshire Blvd., Suite 550, Santa Monica, CA 90403, (310) 453-6556, dana@lighthouseconsulting.com & our website: www.lighthouseconsulting.com.
Lighthouse Consulting Services, LLC provides a variety of services, including in-depth work style assessments for new hires & staff development, team building, interpersonal & communication training, career guidance & transition, conflict management, 360s, workshops, and executive & employee coaching. Other areas of expertise: Executive on boarding for success, leadership training for the 21st century, exploring global options for expanding your business, sales and customer service training and operational productivity improvement.
To order the books, Cracking the Personality Code and Cracking the Business Code, please go to www.lighthouseconsulting.com.
https://lighthouseconsulting.com/wp-content/uploads/2013/10/compass.png
315
182
Dana and Ellen Borowka
https://lighthouseconsulting.com/wp-content/uploads/2021/02/Lighthouse-Logo-co-name-transparent-300x97.png
Dana and Ellen Borowka
2014-04-15 12:40:16
2016-10-03 02:11:54
Leadership: How to Listen To Your Inner Compass