By Paul David Walker
As a leader, what you do not hear or misinterpret can be the difference between success and failure. As a sales person, or in relationships, the same is true. Listening to what people are actually saying is the starting point of every successful interaction. Not understanding what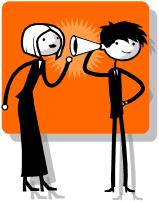 someone is saying is like giving someone directions to your office before you know their present location.
As a CEO Coach and business advisor, I have learned many lessons about listening. I am excited to share some of those with you today. After hearing the lessons, the most important thing for you to do is practice. So I will also provide some exercises to develop your listening skills.
Listening to Tell Your Story
I found that in sales situations I tended to listen only enough to start constructing my story, or sales pitch, in my mind. I would even start taking notes, outlining my response before the client had finished talking. Worse yet, I was deciding which of our standard programs I was going to pitch. I was an excellent leadership consultant, but my sales effectiveness was weak. After listening to my sales approach, my partner suggested a three-day sales and listening course.
One of the first "don'ts" was listening to tell your story, which they explained is the first mistake of all bad listeners. Typical stories were: listening to…
Develop an answer … bingo!
To be right about your view.
To tell your story.
To judge the speaker's story.
Thinking about something else.
Thinking you already know.
Thinking about your next meeting.
I was guilty of many of these bad habits. The fact that I was processing in my mind while the person was speaking prevented me from hearing their entire story, and so my responses were never on target. The lesson was: don't think while you are doing intake.
Content is Only 7% of the Story
The meeting leader then asked: once you are not processing while you are doing intake, what are you listening for? If you are listening for content only, then you are missing most of the message. Studies have shown that only seven percent of the message is in the words or content. Thirty-three percent is in the vocal tone, and the balance is non- verbal's.
In addition, people who are talking to you are struggling to communicate something they may not fully understand themselves. They may be repeating themselves to find just the right way to say something. So, in addition to not processing, I had to learn how to listen beyond words.
Connection and Rapport
I found that if you learn to intake the entire message, and listen beyond words, your level of rapport goes up dramatically. Most people do not listen well, and so when you do, you connect with people at a deep level and they feel heard. One of my clients said, "The main reason I work with you is because you hear me."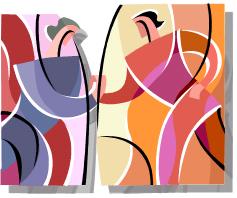 In real estate there are three things that are important: location, location and location. In leadership, selling and life, the three most important things are: rapport, rapport and rapport. If you fall out of rapport and start telling your story, you won't be heard and worse yet, you may be distrusted. No one likes to be sold to. Establish rapport and keep it before you present your story or service.
Integrative Presence
The instructor said that the simple summary of this course is that you have to be totally present while listening and you will naturally integrate everything. After three days of the course, I had a sales call with a CEO, so I decided to practice my new approach. When I walked into the office, since I was totally present, I could see both the CEO and the SVP of HR were in a bad mood. They said to me, "How are you doing?" I told them that I was stressed after driving in LA traffic. They laughed, expecting the standard "I am great answer." They proceeded to tell me about the events that led to their lousy mood, and we laughed together. The CEO said in jest, "So we all agree that life is crap, at least today." We were clearly in rapport.
I then introduced myself and asked him to tell me a little bit about his situation and why he had called. I then put all my thoughts away and I felt present as I listened to his story for about ten minutes. When he seemed to be finished, I asked if there was anything else? He went on for another five minutes, and then said, "How could you help us?"
I paused and then said, as my teacher had suggested, the first thing that came into my mind, which was a summary of what I had heard instead of my solution. He was visibly shaken and said, "I had not thought of that, but you are exactly right!" I had heard something he had not fully understood. He went on to tell the HR SVP to have me talk to all his staff. When I explained that I would have to charge him, he said, "You two work it out, but I want you to hear what my team has to say. I achieved rapport, "Integrative Presence," and heard beyond his words.
That year I won the Sales Leader of the Year Award for our Leadership Consulting firm. The lesson here is that you do not have to consciously process your answers. If you do full intake, your brain is able to synthesize and say the right things.
There is No Substitute for Practice
Remember, your thoughts block your intake. The following is an exercise you can try with a friend. As you listen to a friend try to tell you something important to them, try the following:
[ws_table id="23″]
As you start to develop the habit of letting go of your thinking, you will notice a sense of integrative presence in yourself, as will others. You do not have to do anything but let go of your thinking. Integrative Presence is a natural state of mind that is interrupted by your thinking. Also, do not take this, or your thoughts, too seriously.
Paul David Walker is a Senior LCS Consultant and one of the few CEO coaches who has worked with numerous Fortune 500 CEOs and their key staff members for over 25 years along with many mid-cap organizations. Some of the organizations that Paul has worked with include StarKist Foods, Von's Grocery Stores, New York Life, Anne Klein, Rockwell International countless manufacturing, global utilities, service and consulting organizations. Paul is the founder of Genius Stone Partners, and works with domestic and international companies to improve their bottom line today and planning for the future. Paul is the author of the best selling book, Unleashing Genius and his new book, Invent Your Future – 7 Imperatives for a 21st Century. You can reach Paul at Paul@lighthouseconsulting.com.
Permission is needed from Lighthouse Consulting Services, LLC to reproduce any portion provided in this article. © 2014 This information contained in this article is not meant to be a substitute for professional counseling.
If you would like additional information on this topic or others, please contact your Human Resources department or Lighthouse Consulting Services LLC, 3130 Wilshire Blvd., Suite 550, Santa Monica, CA 90403, (310) 453-6556, dana@lighthouseconsulting.com & our website: www.lighthouseconsulting.com.
Lighthouse Consulting Services, LLC provides a variety of services, including in-depth work style assessments for new hires & staff development, team building, interpersonal & communication training, career guidance & transition, conflict management, 360s, workshops, and executive & employee coaching. Other areas of expertise: Executive on boarding for success, leadership training for the 21st century, exploring global options for expanding your business, sales and customer service training and operational productivity improvement.
To order the books, Cracking the Personality Code and Cracking the Business Code, please go to www.lighthouseconsulting.com.
https://lighthouseconsulting.com/wp-content/uploads/2013/10/Listening1.jpg
202
159
Dana and Ellen Borowka
https://lighthouseconsulting.com/wp-content/uploads/2021/02/Lighthouse-Logo-co-name-transparent-300x97.png
Dana and Ellen Borowka
2014-04-27 12:42:32
2016-10-03 01:54:01
What Are You Listening For?