By Michael Utvich
2009 was a big year for Twitter and it is still going strong. Politicians, movie stars and sports figures have made headlines, chirping their random thoughts to masses of admirers, who received their transmissions on everything from a desktop computer to a cell phone. The Twitter media phenomenon has become a rocket sled that has propelled the culture of social networking into public view.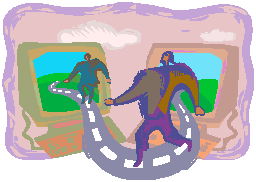 THE SOCIAL NETWORK WHOOPEE SHOW
At first glance, the numbers are staggering. As of July 2009, an estimated 200 million people are members of Facebook, the leading personal social network. The Twitter website attracted 44.5 million unique visits in June of 2009, with millions more distributing messages through Twitter apps beyond the site itself. LinkedIn.com, the dominant social network for businesspeople had more than 43 million members. The massive media coverage has been rigorously trendy, often vapid, and frequently meaningless. Social networks have been presented as a serial web of connected gimmicks.
What has been lost in all the background noise is that social networks and the larger "Web 2.0" technology evolution are now maturing into a system of powerful communication and collaboration tools that will transform the way we work, interact – even think – and have an impact greater than the original World Wide Web did when it was founded in 1993 – only sixteen years ago.
WHAT'S A WEB PRESENCE? DO YOU NEED ONE?
If you send or receive only one email a year, you have a web presence. A web presence is, very simply, the sum of all the places, or touchpoints, where you maintain your identity on the web. For most businesspeople their web presence has been 1) their business e-mail address and 2) their company website.
Web 2.0 and social networking apps are changing all of that dramatically. These new apps are like freestanding computer programs and systems that allow you to sign in and operate a variety of electronic tools to create and distribute your own content, interact with other members and engage in group initiatives over the web. So the businessperson of today has a growing list of touchpoints that make up a web presence, for example:
YOUR WEB PRESENCE – SOME OF THE MOVING PARTS
• Email: Business address, personal email address
• Website: Company website
• Blog: Personal or company blog site (linked to website)
• Business Social Network: LinkedIn.com or other business network handle and profile
• Personal Social Network: Facebook.com or other social net handle and profile
• Private Social Network: Ning.com-based private membership only network handle
• Instant Messaging: Yahoo IM or AOL Instant message handle
• Internet Phone: Skype identity, profile and access.
• Microblogging: Twitter account for sharing and receiving microblog message streams.
• Information Sharing: Twine.com or other information links service to share information with networks of friends.
This is just a partial list of the apps that could be added to your web presence. Add to all of this that these tools are interconnected and can feed off one another, information generated in one application can be distributed in another, notices and endorsements created through one application can be shared through another. The web has evolved from a few simple functional connection tools into a vast, complicated and encompassing global network.
WEB 2.0 & SOCIAL NETWORKS
A partial collection of new technologies and applications that make up the interactive collaboration and communication system driving the Internet and the Web for the future.
Far from being the superficial collection of gimmicks often presented through the media, Web 2.0 and social networking represent a dramatic scale up in human communication tools and capabilities.
To see how dramatic the changes are, compare a Web 1.0 application (the Contact list / Address book in Microsoft Outlook) to a Web 2.0 app like LinkedIn. The two essentially capture a network of contacts, but LinkedIn fully integrates your contact list with your background information, a system of endorsements, interest groups, specialized communications and linking network that enables you to see how you are connected to others in your list, and your common contacts. By contrast, Outlook Contacts is little more than a database for name address, email and phone. The integrated, collaborative Web 2.0 application lets you move faster by connecting your information into greater and more valuable forms and richer meaning.
ITS ABOUT YOUR BUSINESS OBJECTIVES
The smart play to build your Web presence is to understand what the technologies can deliver and to build intelligent business objectives around them. You might need to do some out-of-the-box brainstorming — for example—what if you could:
Instantly find the connections in your network to meet anybody you wanted?
Monitor alliances and connections between your clients, partners and competitors on demand?
Build a free broadcast network to engage the marketplace?
Create a Social Store to present your products and services to customers and their friends?
Monitor and participate in opinion leader dialogues in your industry and marketplace?
Present your personal professional brand to a worldwide network of influencers – as well as potential customers.
Without some creative and well stated business objectives, it's easy to get lost in the fog of activity, and put up profiles on various sites and share data without any sense of outcomes.
COMMUNICATE…AND LISTEN
Web 2.0 and social networking is a conversation, not a one way presentation. If you are coming at this from a business perspective, your two principal targets should be to:
Outbound: Present yourself, your experience and your value to a global audience through well developed media – website, blog, LinkedIn profile, Twitter streams.communication
Inbound: Seek connections who have knowledge, expertise, contacts and creativity to bring value to your business and link to them through social networks and tools.
Keep in mind that your objectives with these tools will likely be both outbound and inbound —- not only communicating yourself, but paying attention to others and engaging them in your dialogue. On the outbound level, you may wish to present your product or service to the marketplace. On the inbound level you may need to create interactive and collaborative tools for your clients, customers, partners or members to comment and interact with you.
YOUR PROFILES: REAL TIME STORYTELLING
Social connections through the web create more interactive and intimate communications than conventional marketing messages and email communications. The computer screen, unlike the printed page, operates in the present tense. An online profile is not a resume, a listing of what you did yesterday, it is a presentation of how you see the world, the things you find interesting and the things you value today, right NOW.
Telling Your Story Through Social Networks
[ws_table id="24″]
In the intimate, connected, and collaborative universe of online social networks, authenticity is more important than conventional marketing messages, keywords, taglines and themes. The fundamental premise of social networks is that they allow you to interact directly with real people in the here and now – through information, favorite media, shared pictures and images. These are collectively a multimedia storytelling system. Your opportunity is to tell your story using the most powerful medium to carry the message.
This is you, right now, coming through the screen. When people confuse an online profile with a resume or Curriculum Vitae, what emerges is often flat and uninteresting, a list of happenings and facts without context to provide meaning. Storytelling, anecdotes, illustrative quotes are all effective ways for you to profile and present the truly individual aspects of your character and accomplishments, including things other people have said about you in the form of quotes and comments.
OPERATING YOUR NETWORK
Once you have built your presence on a social network such as Facebook or LinkedIn, you now have contacts, your profile, endorsements and other information, you are now in a position to operate that network to generate interest and activity.
Social networking software contains a variety of sharing tools and triggering frameworks, such as photo sharing and user walls for posting of content that enable you to keep a high level of visibility to your audience. In effect, operating your social network allows you to create a persona not unlike a television news reporter or commentator, someone who brings things of interest to your network.
The challenge in operating your social network is to have a clear sense of the voice you wish to project. Just randomly throwing pictures and articles up or overwhelming your audience with useless links or information out of context will exhaust even your best friends. So we come full circle to the beginning of this article and the overriding concept of Web Presence — you need to have clearly defined objectives of how you wish to communicate yourself, your knowledge, and your value, and use those objectives to select the ways you operate and interact with others through the social networking system.
You may find that you use one larger network like Facebook or LinkedIn as the 'base station" or "mother ship" in your social networking context, you can then add other tools around it. Share Skype IDs with Facebook friends to for free voice conversations Skype to Skype anywhere in the world. Use Twitter to build followers and share items that come out of your LinkedIn or Facebook community. While it is true that the possibilities are endless in this world of many tools and apps, the reality must be carefully considered, focused and designed to stay in line with your business objectives.
To receive a worksheet on creating Your Web Presence… please click here.
See below for a list of social networking sites and social networking.
SOCIAL NETWORK SITES – BUSINESS
• AdvisorGarage – It is an online directory of advisers who are willing to assist budding entrepreneurs.
• ArtBreak – ArtBreak is an artist community for sharing and selling artwork.
• Blogtronix – Blogtronix promotes corporate social networking, enterprise 2.0 and wikis.
• DoMyStuff – A good site for working professionals looking to find online assistants.
• Doostang – An invite only career community for professionals.
• Fast Pitch – It is a quickly growing business networking community in corporate world. Its online provides users with a one-stop shop network to market their business.
• iKarma Inc. – iKarma is a specialist in providing customer feedback for organizations and professionals.
• ImageKind – ImageKind is a community and marketplace for professional artists.
• Jigsaw – An online business card networking directory for users to establish contacts with each other. Each business card is listed with an email id and a contact number.
• Linkedin – LinkedIn is a professional social networking website for business users, one of the most popular such sites out there.
• mediabistro.com – mediabistro.com is for professionals in content or creative industry.
• Ning.com – Create your own public or private-secured list social network for your business
• Ryze.com – A site for establishing new connections and growing networks. Connections for jobs, building career and making sales.
• Spoke.com – Spoke offers access to business network of over 40 million people worldwide.
• XING – XING is a networking directory of business contacts powering relationships between business professionals allowing users to connect with each other.
YOUR WEB PRESENCE / SOCIAL NETWORKING PLAN
The key planning steps shown below are simply a way of looking at the big picture of what you wish to accomplish. Having a central 'web marketing plan', even a quick scratch sheet from these notes, will help you focus your presence more effectively than randomly filling in profile forms without a core objective.
The most important is Number 1: Your Web Presence objectives. At the simplest level, you may want to present a clear and compelling vision of your current expertise, the value of the work you do and the quality of expertise you possess. In other words, you can use social networking to convey both your personal and professional value proposition. The more you can focus on the key elements of your background, personality and expertise for emphasis, the more you can develop a clear and accessible profile; adding media, narratives, anecdotes, even video clips bring a rich dimension that both enhances and confirms your image.
The key steps in building a Social Networking Plan are to identify:
Your Web Presence objectives: What is the business, personal or professional goal or goals you have to realize through creating a Web Presence
Your Web Presence profile: Who are YOU, and how to best present it?
Information about you today, your background and experience.
Individuals and groups of people you wish to interact with
Content you need including video, audio, presentations
Web 2.0 social media select to meet your purpose.
Timing which elements of your network to build first, and what follows progressively
Permission is needed from Lighthouse Consulting Services, LLC to reproduce any portion provided in this article. © 2014
Michael Utvich has over thirty years experience in strategic communications, product launch and business development marketing. Michael has worked with high technology organizations from Fortune 500 to start-ups to define a deep and relevant customer value proposition that provides the anchor for a smart product launch program including brand, marketing, sales, product knowledge and customer learning programs. He is the award-winning author of 9 books on high technology software and technologies and a frequent speaker on new technologies including Web 2.0 and Social Networking. Epsilon Interactive provides a variety of strategic consulting, coaching and business solutions, helping clients effectively integrate Web 2.0 and social networking technologies their marketing, sales, customer service and internal operations. For more information on this topic, please contact Michael at Michael@utvich.com or (323) 655-4476.
Inspiration and Techniques for Building Championship-Level Performance – Lighthouse clients have one thing in common – all are committed to boosting the performance of their organizations. So, we are pleased to introduce our clients and friends to Boaz Rauchwerger — speaker, trainer, author and consultant. We highly recommend Boaz to you. Ask him to deliver one of his inspirational programs at your next executive retreat or strategic planning session.  One of our favorite Boaz programs is "Playing Like a Championship Team Every Day". It helps you build on the strengths of everyone's individual differences. This program helps you discover five steps to get everyone to join the building crew and resign from the wrecking crew. This is a very powerful and inspirational program that receives rave reviews every time.
• Master five techniques to inspire others to perform like champions
• Six recognition techniques including the powerful "good finder" program
• Learn four ways that your team can gain a competitive advantage
• Identify the three prerequisites for maximizing the team's results
• Learn the two forms of keeping a daily score so everyone wins
Who is Boaz? Over a 30-year span, Boaz, author of The Tiberias Transformation – How To Change Your Life In Less Than 8 Minutes A Day, has conducted thousands of seminars internationally on goal setting and high achievement. He has taught over half a million people how to supercharge their lives, their careers and how to add Power to their goals. His innovative program, for individuals and corporations, is a simple and highly effective process for high achievement. He was voted Speaker of the Year by Vistage, an international organization of CEOs and business owners. How to Contact Boaz – Want more information on Boaz's Power Program, including "Playing Like a Championship Team Every Day"? Just click here and we'll be in touch.
If you would like additional information on this topic or others, please contact your Human Resources department or Lighthouse Consulting Services LLC, 3130 Wilshire Blvd., Suite 550, Santa Monica, CA 90403, (310) 453-6556, dana@lighthouseconsulting.com & our website: www.lighthouseconsulting.com.
Lighthouse Consulting Services, LLC provides a variety of services, including in-depth work style assessments for new hires & staff development, team building, interpersonal & communication training, career guidance & transition, conflict management, 360s, workshops, and executive & employee coaching. Other areas of expertise: Executive on boarding for success, leadership training for the 21st century, exploring global options for expanding your business, sales and customer service training and operational productivity improvement.
To order the books, Cracking the Personality Code and Cracking the Business Code, please go to www.lighthouseconsulting.com.
https://lighthouseconsulting.com/wp-content/uploads/2013/10/biz-man-on-road-computer.gif
182
256
Dana and Ellen Borowka
https://lighthouseconsulting.com/wp-content/uploads/2021/02/Lighthouse-Logo-co-name-transparent-300x97.png
Dana and Ellen Borowka
2014-09-15 16:56:26
2016-10-04 02:17:55
Your Web Presence